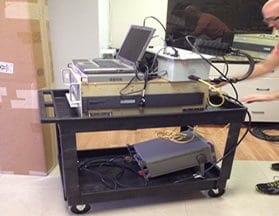 Because we deal in Used Satellite Equipment the most important part of our operation is testing the equipment before shipping. If we ship an item that is later returned for repair, we have lost all profit on the sale.
The most rigorous testing is given to our amplifiers. Using a signal generator, a power meter and a spectrum analyzer we put all amplifiers through a range of tests at various RF frequencies. The results of each test are recorded on a spread sheet and made available to the buyer.
All other items such as modems, converters etc. have their own test protocol but the goal is always to give the buyer confidence that used equipment can perform as well as the brand new equivalent, and that the purchasers's money will be well spent on equipment that will perform as needed.
All Used Satellite Equipment is tested twice at a minimum; the initial test is when the equipment is first received into inventory. At this stage a decision is made to scrap it, send it out for repair, or place it on the shelf, labeled "good for resale."
It may be weeks or months before a new buyer purchases an item, but once more the item is tested just prior to shipping.