Description
Tracstar Systems AVL 1050 PIB 1.2m Mobile VSAT Systems
This is an Tracstar Systems AVL 1050 PIB 1.2m Mobile VSAT Systems is an unused KU-Band Mobile VSAT antenna system. The base fits into one case that when inverted becomes the antenna base. The second case contains the reflector parts and the feed. AVL model is 1050 PIB High Wind package.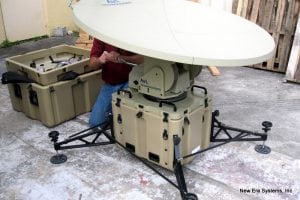 This antenna was received without the antenna controller and the price shown is without controller. The cost to install a new controller will be an additional $10,000.
When all of the components are in place the Tracstar Systems AVL controller allows the antenna to automatically search for, and lock onto the chosen satellite.
Tracstar Systems AVL Standard Features • High Gain 1.2m, 4-piece Carbon Fiber Reflector
• Zero-Blockage, High-Efficiency 0.8 f/D Offset Optics
• Band-Configurable Feed Boom w/ Struts
• El-over-Az High-Stiffness Positioner
• Rugged, Roto-Mold Positioner Case
• Rugged, Roto-Mold Antenna/Boom/RF Case
Reflector Options • Expansion Panels for Enhanced X-band Gain
• Custom Logo (1- or 2-Color, per AvL Logo Policy)
Available Feeds • 2-Port Ku Precision (standard Cross-Pol comp.)
• 2-Port Mode-Match (enhanced Cross-Pol comp.)
• 2-Port Ka Commercial
• 2-Port Ka MIL (WGS)
• 2-Port X MIL (WGS) – Opt. Rx/Tx Reject Filter Kit
• 2-Port Ku/DBS
Ku Pol. Adjustment • Motorized Rotation of Feed via Controller
Tracstar Systems AVL Available Options, Upgrades & Services
• Customer-furnished ODU/modem integration
• Ku-band Mode-Matched feed for enhanced cross-pol performance
• 2-Port Ka Commercial feed
• 2-Port Ka MIL (WGS) feed
• 2-Port X MIL (WGS) feed (incl. Rx/Tx reject filter kit)
• 2-Port K/DBS feed
• X-band reflector expansion panels (original equipment factory upgrade only)
• Customer-furnished BUC/LNB mounting
• Waveguide interconnect options
• Wind anchoring options: ground stakes, straps, sand bags
• Optional aluminum transit case
• 2 Piece carbon fiber reflector (changes pack-up requirements)
• 1- or 2-color custom reflector logo
View our larger collection of mobile antenna systems: <href="https://newerasystems.net/product-category/antennas/mobile/">New Era Systems Store