Description
AVL-Cobham .75m Fly Away antenna is an unused complete Cobham TracStar fly away antenna system. It comprises the antenna, the antenna tripod base, reflector panels, controller and hand-held controller.
These antenna systems can be programmed to automatically find the satellite and lock onto its signal. The total time to begin broadcastings is typically 15 minutes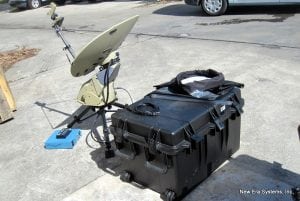 Fully Automatic Satellite Acquisition, Peaking, and Cross-Pol Adjustment using GPS, Compass, and Level Sensor Inputs with Entry of Desired Satellite, Certified for Auto commissioning on select services.
We have a total of six antennas, the one antenna that was contained in two custom made transport cases has been sold, the other antennas are delivered in a good quality cardboard boxes.