Description
We have a used SeaTel 4003 Marine Antenna System for sale.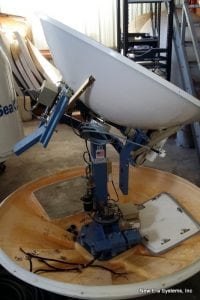 Although it is used, it has been taken out of service by one of the Yacht communication companies in Fort Lauderdale 
This means that it is fully tested and is guaranteed to be in excellent working condition.
The system is complete with the DAC controller, LNB and a four watt BUC.
Manufacture: SeaTel (Cobham)
Model:           4003
Controller:      DAC 2200 antenna controller (requires gyro compass heading)
Condition:      As removed from working environment
Testing:          Network Validation Unit tested on a live network and found to be in operation
Isolation:        Unit passed cross-pol isolation with -30db on IS-23
We can reconfigure many of the basic items, such as BUC power or LNB range. Depending on the requirements there may be a slight cost.
One of the many questions we have been asked, "Will it fit on my boat?"  There is no simple answer to this question, for example with a heavy metal constructed vessel, sixty feet will be the minimum length that can safely accommodate this SeaTel unit. With composite vessels the minimum size will be eighty feet.