Description
EFData SDM-2020 is an early design satellite modulator manufactured by EFData before they merged with Comtech.
For a teleport or VSAT site needing a high data carrier of up to 75Mbps at 8PSK this is an ideal cheap alternative to a much more expensive newer modulator.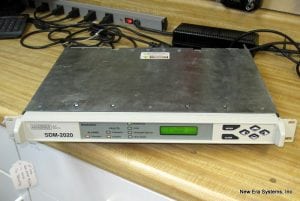 The EFData SDM-2020 series was an interesting product because there were two different parts, the SDM-2020M that is the modulator, and the SDM-2020D, which is a demodulator.
Both the modulator and the demodulator are 70 MHz devices.
Taking some lines from the Manufacturer's data sheet:
Introduction
The SDM-2020 satellite modulator is a programmable variable-rate, modulator used for digital video and high-speed data applications.  The SDM-2020 supports open network modes compliant with the EN XX specifications for Digital Video Broadcasting via Satellite.
Features
DVB or Transparent Data Transmission,
Programmable 1.5 to 100 Mbps
QPSK and 8PSK.