Description
Comtech EFData CDM-550ip Satellite Modem is a legacy modem, 140 MHz IF with ethernet options.
Although this modem is featured in the 70MHz category, it is actually a 140 MHz modem because we have so few 140 MHz modems we have not created a separate category.
This is a 2 Meg modem with QPSK 3/4 and Turbo Product Code.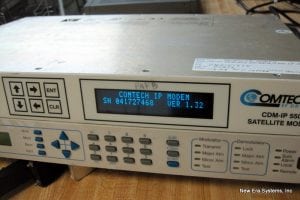 The photographs may be confusing, I had just finished testing the Vitacom/Datum modem and instead of removing it I place the CDM-550 ip on top.
The CDM-550 is a low-cost, high performance satellite modem designed for closed network Single Channel Per Carrier (SCPC) links. It is ideal for many VSAT applications. The CDM-550 offers a range of data rates from 2.4 kbps to 2048 kbps in 1 bit per second steps.
The modem includes Viterbi or Sequential forward error correction as standard. A Reed-Solomon Codec and Turbo Product Codec are available as extra-cost options.