Description
Fly Away Antenna Prodelin .95 Meter Elliptical
.95 Meter Elliptical Fly Away Antenna manufactured by Prodelin, now GDSatcom.
We are offering a $1000 reduction while supplies last.
We have several of these brand new antenna systems. They are packed in two heavy duty transport cases and can be assembled in 15 minutes with practice.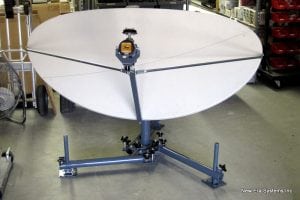 Because of the strength of the support, much larger BUCs can be mounted directly on the boom arm than with other antennas of the same size.
| | | |
| --- | --- | --- |
| Electrical | Rx/O Series 1950 Ku-Band | Rx/Tx Series 1951 Ku-Band |
| Antenna Size | 95 CM (38 in.) | 95 CM (38 in.) |
| Reflector Dimensions | 53.0" x 26.5" Ellipse | 53.0" x 26.5" Ellipse |
| Operating Frequency | 10.95 – 12.75 GHz | 10.95 – 12.75 GHz |