Description
8W KU BUC manufactured New Japan Radio with a model number of NJT5018N  is tested and guaranteed, this New Japan Radio KU-Band  BUC is unused in excellent condition. The frequency range is  14 to 14.5 GHz.
During our bench tests we ran the BUC at 14.0 GHz, 14.25 and 14.5 GHz and at all frequencies the KU-Band amplifier reached or exceeded the manufacturers stated output. Full details of the tests can be seen in the Downloads tab.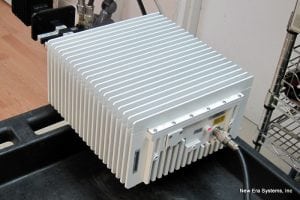 This BUC requires 48VDC and 10 MHz Reference supplied via the IFL cable.
Dimensions 11 * 10 * 5.25 inches, weight 18lbs
* No "Cooling Fan" Solution
* High Efficiency Output Power
(8W minimum @P1dB over temperature)
* Three Power Supply Selections
DC: +48Vdc Operation (+38 to +60 Vdc)