Description
New Japan Radio NJT-5025 Tested and guaranteed for a period of six months. L-Band input, output 14-14.5 GHz, 4 Watt.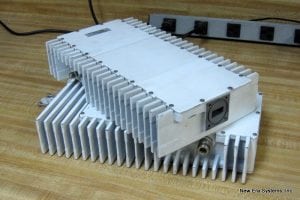 This unit is the fixed gain transmitter incorporating a low phase noise Phase Locked Local Oscillator and a high reliable MMIC High Power Amplifier, and converts L Band (950 to 1,450 MHz) IF Input to Ku Band (14.0 to 14.5 GHz) RF Output.
These NJT-5025 4W KU BUC amplifiers are typically used in VSAT systems.