Description
Mitec 8W KU-Band BUC Description
On a recent retest of this BUC the unit failed. Our cost to repair will exceed the value of the BUC. So I am placing it in the parts bin.
You may find some useful hard to find components.
******************************************************************************************************************
Mitec's products have more than a quarter century of proven field experience, demonstrating their unmatched dependability and reliability day after day. This level of dependability can be found in our line of high power hub mount solid-state power amplifiers (SSPAs). This Mitec 8W KU-Band BUC is uniquely designed to be a high quality, but cost effective solution for the satellite communications market, this line of high power hub mount SSPAs sets the standard for the satellite industry.
Model number Mitec WTX-14014539-70-ES-20 is a New – old stock – 8 Watt 14.0 to 14.5 GHz BUC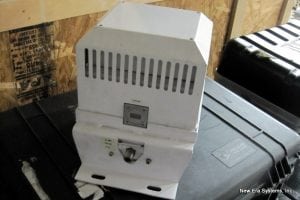 High power hub mount solid-state power amplifiers (SSPAs and BUCs):
The Mitec series of high power SSPAs are designed for use primarily in satellite communications applications. The operating frequency band of Ku Band SSPA is in the standard 14.0GHz to 14.5GHz, and 5.85GHz to 6.42GHz in the standard C Band.
Other frequency ranges are also available to customer specification. These units are characterized by high linearity and high power efficiency, as well as excellent thermal efficiency and dependability over the full operating temperature range.
Mitec 8W KU BUC Key features
• Frequency range options available
• Can be provided with 10MHz and/or 24VDC option
• Redundancy option for 1:1 configuration available for all power levels
• RS485, RS232, RS422 or Analog M&C interface
• High thermal dissipation efficiency resulting in "Best in Class" Mean Time Before Failure (MTBF)
• Summary alarm
• Over temperature shutdown
• RF power detection
• Mute control
• RF monitor
Mitec 8W KU BUC Specifications
L to KU Band BUC 8-200W
L to C Band BUC 10-200W
Input Frequency range – IF
950 – 1450 MHz
950 – 1525 MHz
Output Frequency range – RF
14.0 – 14.5 GHz (13.75-14.25 GHz optional)
5.85 – 6.425 GHz (other options are available)
System Gain
70dB nominal
Gain Flatness over full band
± 1.0 dB nom
Gain variation
± 2.5 dB over operating temperature range
± 1.5 dB over operating temperature range
Input/Output Return loss
18 dB min.
Spurious at rated power
– 50 dBc max.
Third order IMD (2 equal tones 5 MHz apart)
– 25 dBc max. @ 3 dB back off
SCL 6 dB back off from P1dB