Description
We have a quantity of the used Comtech CDM570-L Modem, they are equipped with full Ethernet and Vipersat features.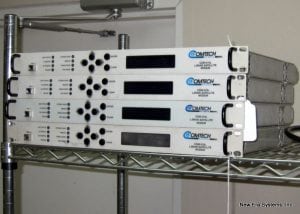 The standard features sold with the Comtech CDM570-L Modem are 100W BUC (24VDC) power supply, Turbo Product Code, IP Module, 5 Mb Data Rate, Header Compression, Data Compression, IP QOS and Vipersat.
Other features not present on our modems are normally fast-key options. If a client requests all of the above features plus 8PSK, we will buy the code from Comtech and use the code, to unlock the 8PSK option.
We have also received requests for the BUC power supply to be increased from 24VDC to 48VDC. This type of upgrade requires the physical removal of the existing power supply and replacement with the 48VDC version. We can perform this upgrade for clients with existing modems if required.
Ask for a price quote if you require additional features.