Description
L3 DC11M2 KU-Band Down Converter is a frequency converter used by the satellite industry to change the RF KU-Band frequencies down to 70 MHz IF frequencies.
The brand name of these converters can be complicated, it can be Narda or L3 and even LNR for some of the earlier model converters.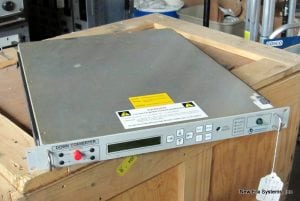 The models that we have in stock are mainly Narda/L3 and they are the M2 series. They have an RF frequency range of 10.95 to 12.75 GHz.
M2-Series dynamically advanced converter technology combines extended bandwidth, reduced size, improved reliability and advanced performance at a competitive price.
With L-3 Narda's 1 Rack Unit Slimline configuration, the M2-Series design leads to substantially smaller 1:1 and 1:N systems. A 1:1 redundant subsystem can be supplied in only 2 RU (3.5″).
The DC11M2 provides an L-Band monitoring port for DSNG signal test and monitoring.
M2-Series Up and Downconverters meet INTELSAT, EUTELSAT, Regional and DOMSAT requirements. The extended converter bandwidth provides access to almost all Ku-Band satellites worldwide.
---
Related Products