Description
Advanced Microwave Components SMA to SMA Low Loss Cable
Advanced Microwave Components SMA to SMA Low Loss Cable is certainly one of the best made cables that we have ever had in our inventory. We were not familiar with the connector described as SMR but from everything we can tell, it's just a right angle SMA male connector.
We use (lose) a lot of SMA RF cables during our equipment testing. They have a short life because we are constantly connecting – disconnecting  and the connectors separate from the cable, and we have to throw the cable away and pull another out of stock.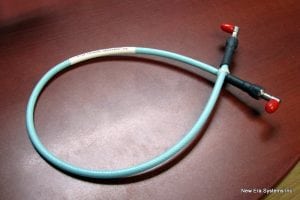 These cables are only 29″ long and too short for our engineer to use, and that's a shame because their very high quality, coupled with super low loss characteristics would be a blessing on our test bench.
We pulled the lab test results for this 29″ CF-300 cable at 14.5 Ghz.
Cable Loss = 0.44
Connector Loss = 0.35
Assembly Loss = 0.79