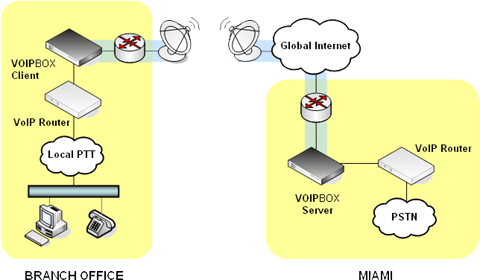 VoIP Phone service with connection to the PSTN.
If you work in a branch office of an overseas company, using VoIP over your VSAT connection will allow you to make free calls to the Head Office.  Depending upon your requirement you can have up to 30 lines in use at any one time. We call this on-net traffic termination.
In most cases you may wish to place calls to people who do not have similar VoIP systems. We can handle this process as well!
Using carrier grade telephone switches that converts the VoIP signal back into normal telephone calls we let you place calls to anywhere in the world. The call to our US switch is free but we do charge for the second leg of the call, from our switch to its final destination.
Consider the economies of someone in Botswana, Africa calling by VoIP to a bank in the States or Europe. The first leg of the call comes via VoIP through our satellite to our switch for no charge. The second leg of the call to Europe or the USA will incur a charge of 5 to 10 cents a minute. You could say that the total call from Botswana to the US is only 5 to 10 cents a minute. By comparison a local telecoms company is likely to charge the caller in Botswana one dollar a minute.
Satellite Compatible VoIP Routers
If you operate a Cyber Cafe with 8 to 16 analog telephone connected to a PABX we recommend the Quintum Tenor VoIP Gateway, which will connect directly to analog lines.  These units are both reliable and easy to configure and have been reviewed favorably in independent tests.
For higher volume digital environments such as you would find in a telephone company, we recommend the Cisco 5300 and 5350 series VoIP routers. The 5300 series can be configured for 4 x T1 or 4 x E1 digital lines and is ideal for heavy call loads. These routers are very old technology but they are available cheaply on the used equipment market.
Satellite Bandwidth Optimization
Where bandwidth is in short supply it is better to optimize your existing connection.  Using VOIPBOX from ApplianSys you can dramatically increase the number of VoIP calls you can make and improve call quality and reliability at the same time.  Where you may only have managed three calls over a 256kps connection you can now make up to 28 simultaneous calls.
Find out more.
To find out how we can help you get the best out of VOIP call us on 1 954-974-7144 to discuss your VoIP needs.