Description
KU-Band Twist Flex Waveguide is an on-going need of our clients. Here we are featuring 72″ WR75 flexible waveguide, direct from the manufacturer.
In addition to the waveguide the sealed package contains desiccant, nuts and bolts and two sets of gaskets.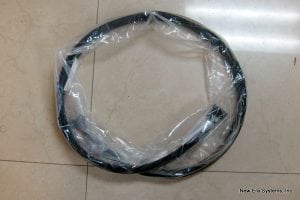 The precise description by the manufacturer is:
WR75 Flexible Waveguide, Twistable, Length: 72 IN, Neoprene Jacket, Flange Material: Brass, Flange Type: F1: Cover, F2: Cover-Groove (Flat with O-Ring groove), Flange Finish: Unplated Irridited, Including hardware Kits.
Ask us about price for KU-Band Twist Flex Waveguide not shown here:
36″ Length of WR75 KU-Band
48″ Length of WR75 KU-Band