Description
Videohub Master Control lets you scroll your router sources and
destinations with the easy to use spin knob control or via direct button entry.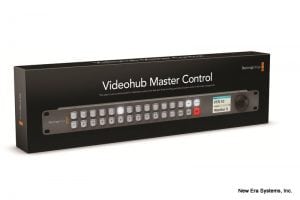 The Blackmagic Design Videohub Master Control is the ultimate control system for Blackmagic's Videohub family, letting you control all Videohubs, from the one with least amount of inputs to the one with the most, and it'll let you cycle through the inputs, select any one, and route it to any destination.
One of the system's great features is that you can lock routes to prevent from accidentally changing routes when you're live. And you unlock any destinations locked by others through their computer, iPad, or Video Smart Control. Another great feature is that the routes can be labeled and easily searched for. For example, VTRs can be labeled "VTRs" and searched for as "VTRs."
The Blackmagic Design Videohub Master Control is Easy to Install
You can customize buttons, sources and destinations using the included, easy to use Windows and Mac software. To set up the panel, just connect to the built-in USB connection and then run the software. You can select where the Videohub is on your network, as well as how many destinations you want on the panel. You can even select the backlighting brightness, as well as if you want a "take" button!