Description
iDirect Evolution X3 Satellite Modem (iDirect calls them Satellite Routers) whatever the name we have several used model X3. They are tested and guaranteed unlocked and complete with external power supply.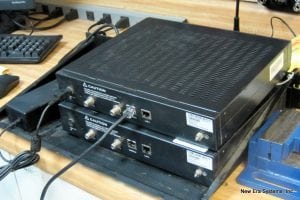 This next section was copied from the iDirect data sheet, you can view or download the complete data sheet in the "Downloads" tab/
High-speed, High-efficiency IP Broadband Connectivity for Enterprise Networks
Evolution X3 is the first next-generation satellite router featuring iDirects highly efficient implementation of the DVB-S2 standard. With Adaptive Coding and Modulation (ACM) on the outbound carrier and iDirect's patented, deterministic TDMA return channel, Evolution X3 maximizes efficiency of satellite capacity to enable new opportunities for star topology networking.
Evolution X3 is ideally suited for broadband requirements such as Internet and VPN access to enterprise networks, as well as real-time VoIP and videoconferencing.
Superior Quality of Service and Network Performance

iDirect's sophisticated Group QoS advanced traffic prioritization dynamically balances the demands of different applications according to their needs and bandwidth availability, across multiple sites and user sub-networks.
Features such as TCP and HTTP acceleration, in addition to local DNS caching, increase performance and maximize user experience.