Description
Comtech EFData CDM-600L Modem is a used modem in excellent working condition. This is the L-Band  version of the CDM-600 SCPC modem. This particular modem has the following features enabled:
5Mb Data Rate
Viturbi
QPSK & 16QAM
L-Band output
18VDC LNB Power Supply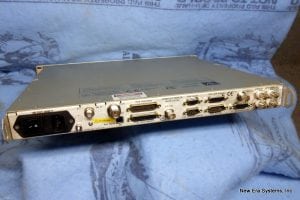 This is what Comtech EFData say about their modem
The CDM-600 and CDM-600L are open network satellite modems, which are fully compliant with IESS-308, -309,-310, -314, and ñ315 from 64 kbps through T2 and E2.
They are available in the following three data rate ranges:
• Low-Rate variable: 2.4 kbps to 5.0 Mbps
• Mid-Rate variable: 2.4 kbps to 10.0 Mbps
• High-Rate variable: 2.4 kbps to 20.0 Mbps
In addition, the CDM-600L operates in closed network from 2.4 kbps to 10 Mbps.
The modems include T1, E1, T2, and E2 G.703 interfaces, in addition to EIA-422, V.35, EIA-232, and serial LVDS. HSSI is provided by adding the CIC-20 interface converter. The architecture is firmware and FPGA-based, and the internal Flash memory allows easy updating via the serial port. The modem offers exceptional flexibility and performance in a 1RU enclosure.