Description
Datum PSM-4900 VSAT Systems Modem
Datum PSM-4900 VSAT Systems Modem is a used modem manufactured by Datum. These modems are perfectly suited to SCPC Satellite service and they include Turbo Product Code for more efficient bandwidth utilization.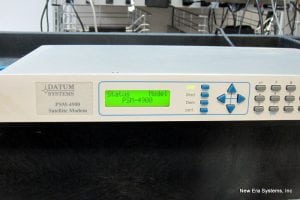 All of our modems are tested prior to shipping and come with a guarantee of excellent health.
Here is a sample from the Datum PSM-4900 VSAT Modem datasheet
BPSK or QPSK operation.
SCPC or VSAT remote mode (Burst modulation).
Programmable receive acquisition/tracking range.
Typical DSP acquisition time of 315 mseconds at 9.6 kbps QPSK, 71 mseconds at 64 kbps QPSK.
BER vs. Eb/No performance within 0.3 dB of theoretical. 10-7 BER at 6.0 dB Eb/No (3.5 dB Eb/No with Reed-Solomon codec).
DDS transmit and receive frequency setting in 1 Hz increments.
Programmable Interface type..
DDS setting of transmit and receive data rates from 1.2 kbps to 4.92 Mbps in 1 bps increments.
Built-in BER Test Set.