Description
The Comtech CDM-600 Satellite Modem were fully featured top of the line SCPC modems until a few years ago. Even today with a very full feature set and a huge price discount for a used modem, these CDM-600s are a valuable item at any teleport of VSAT site.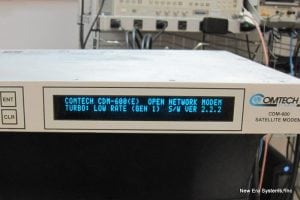 With the advantage of Comtech's fast key upgrade feature nearly all of the many available features can be added using a passcode. We have several of these Comtech CDM-600 Satellite Modems. An example of the features on a pair of Comtech CDM-600 Satellite Modem
Modem 1: 5Mbps, 8psk, IBS, 5Mbps LDPC, High Rate Turbo Gen 2
Modem 2: 5Mbps, high rate turbo, IBS
Ask for actual installed features before purchasing.
Here are some highlights from the datasheet:
FEATURE ENHANCEMENTS

Enhancing the modem's performance is easy. Additional features are added quickly on site, using FAST access codes purchased from Comtech EF Data. To enable these features, simply enter the code at the front panel.
TURBO PRODUCT CODING
The modems offer all traditional FEC methods and incorporate an optional Turbo Product Codec (TPC). TPC is a FEC technique that delivers significant performance improvement when compared to Viterbi with concatenated Reed-Solomon. TPC simultaneously offers increased coding gain, lower decoding delay, and significant bandwidth savings.