Description
Comstream CM701 Satellite Modem dates back many years, even to the time when Mr. Radyne and young Master Comstream were still strangers.
Tucked high on one of our shelves in our warehouse was a box marked "New Comstream CM701" the box hadn't been opened in years and we wondered at the treasurer's inside. The anticipation was similar to that of a concert violinist finding a box marked "New Stradivarius Violin".
Alas we were due for disappointment. Although the box contained new manuals, cables, cheat sheets and mounting hardware – The modem was not new, slight scratches on the case showed that it had been used a some stage.
Sure it works, but like our concert violinist, we had to follow other owners, and were not the first to use this treasure!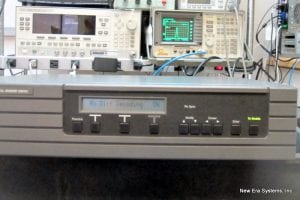 A basic SCPC modem with QPSK, BPSK and a data rate of 512Kb. You can see on the spectrum analyzer in the background a good 70MHz signal. It also tested well with IF loopback.
For anybody wanting a functioning piece of history we offer this Comstream CM701 Satellite Modem for sale.