Description
A client sent a PO for this unit a few weeks ago, but unfortunately it failed during final testing. There is a problem with the screen. It could be a loose connection problem, or it could be something worse.
If you have the skill it will be a really good buy at $490.
The Advantech AMT-75 Satellite Modulator has the advantage that it can be used either for L-Band or 70 MHz SCPC uplinks. This particular modem has DVB and DVB-S2 with 8PSK modulation.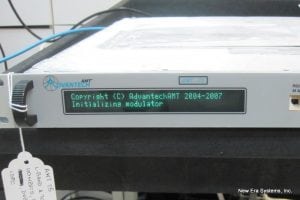 Advantech use a very exact model number that defines the features that are installed on a particular mode.
Refer to the downloads tab to see the installed features on this unit.