Description
Anacom 30784 KU-Band LNC is a never used, complete with gasket and mounting screws KU-Band LNC that works with Anacom's transceiver systems.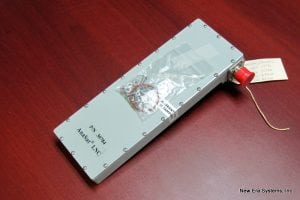 We have never quite understood how an LNC is different from an LNA and if anybody reading this post can solve that mystery then don't be shy about telling us.
On reflection, there is one very obvious difference, a typical LNA will cost somewhere is the $300 range whereas a new LNC from Anacom (I nearly said Amazon) will cost three times more.
Functionally the Anacom 30784 KU-Band LNC receives the downlink signal from its position mounted on the antenna, and passes the KU-band signal via a low loss cable to the input side of the transceiver.  The rest of the story is known, the transceiver converts the RF signal back to 70 MHz to be used by a standard modem.
We have the complete transceiver system for sale under a separate listing.