Description
Miteq U-9696-3 KU-Band Upconverter a fully tested 70 MHz to KU Band up converter, with a frequency range 13.75 to 14.50 GHz. These are 1RU converters, and in addition to performing well in any teleport rack, they also show a remarkable ability to balance on the top of a spectrum analyzer.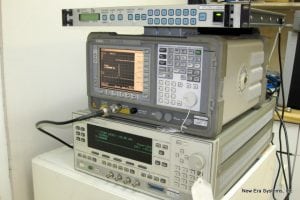 OK, a quick disclaimer here, the test cart that I use for normal testing was holding a pair of 400W TWTAs, and so I had to find some way of performing a fitness test on this upconverter we had just been sold.
As you can see from the photograph, the 70 MHz input is being supplied by the Agilent Frequency Generator and the upconverted RF output is being verified on the Agilent E4408B spectrum analyzer.