Description
L3 UC14M2 KU BAND UP CONVERTER 70 MHz 13.75-14.5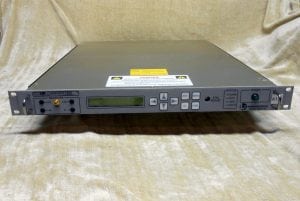 Our M Series L3 UC14M2 KU BAND UP CONVERTER 70 MHz 13.75-14.5, for voice, data, and digital/analog video transmissions, offer the key features you expect to find in world class products at a competitive price. The single rack-mount unit brings together such features as
extended bandwidth, reduced size, high reliability and superior performance to meet your system requirements.
The converters meet INTELSAT, Eutelsat, Regional and DOMSAT performance specifications, while their extended bandwidth enables you to access most commercial Ku-Band satellites worldwide.
Featuring excellent phase noise performance, which accommodates both the Quadrature Phase Shift Keying (QPSK) and more stringent Eight Phase Shift Keying (8PSK) modulation schemes. These units faithfully transmit the wide spectrum of data rates required for digital video applications. With options such as a 1 KHz synthesized "D6" converter, for fine step sizes, and integrated group delay/amplitude equalizers, you know that this converter has the flexibility to meet your system needs. When you factor in its support of SCPC and HDTV, as well as its low
bit error rate, there simply is no other converter that can offer as much for the price.
M series converters, along with their related components, are also
designed to support redundant configurations for both 1:1 and 1:N system requirements. The design goal is to meet the broadest range of satellite telecommunications needs. They are also backed up by 24/7 service and support capabilities, as well as Satellite Networks'
commitment to excellence.
THIS IS A VERY NICE KU UP CONVERTER. IT HAS BEEN TESTED AND IS IN GOOD COSMETIC SHAPE. FREQUENCY RANGE 13.75 TO 14.40 GHz.  STEP SIZE IS 1.25 MHz. IF FREQUENCY IS 70 MHz. WE ARE NSURE YOU WILL BE VERY HAPPY WITH THIS UP CONVERTER.