Description
**For Parts**
SFC4200 C-Band Downconverter manufactured by Radyne Comstream. This is a standard C-Band to 70 MHz downconverter. The frequency resolution is 125 Khz.
The standard C-Band frequency range is 3.625 to 4.20 GHz.
The downconverter listed here has an LO fault and is offered at a much reduced price to compensate for the problem.
If necessary we can fully repair this converter, ask us for a repair price.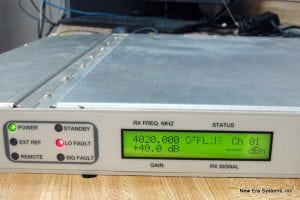 Designed to handle extreme ratios of adjacent carrier power, the SFC4200 offers the highest standard input P1 dBm in the industry at -19 dBm.
With a typical noise figure of 10 dB at 40 dB gain, the SFC4200 can receive signals below -110 dBm with an aggregate input power of -25 dBm. This represents a receive dynamic range in excess of 85 dB. At 40 dB of gain standard, or with the 60 dB gain option, the SFC4200 will easily integrate into any size earth station while eliminating the need for receive line amplifiers, even for installations that employ power splitters on the downlink.