Description
Miteq D-9642 C-Band Down Converter is a tested and guaranteed frequency converter in 1RU format. The RF frequency range is 4.5 to 4.8GHz with a 70 MHz output.
We tested this converter prior to entering this inventory item and the output was perfect. However the fan is noisy, but it works, the only question is for how long?
The price quoted low because of the fan noise. If preferred we can install a brand new fan for an additional $175.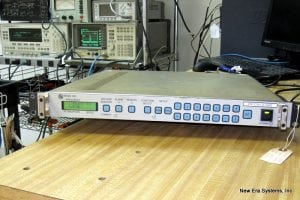 The photographs show the converter under test, using our Agilent Swept Signal generator to generate the C-Band RF frequency and HP 8593E Spectrum Analyzer showing the 70 MHz output from the D-9642.