Description
Mini-circuits ZSC2-1 2 Port Splitter probably belongs in a museum, this example of a IF splitter combiner is very old, but who cares, it still does the job that it was designed to do.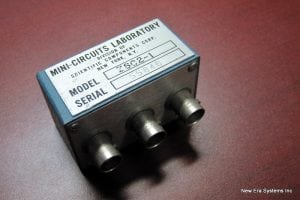 Features
• wideband, 0.1 to 400 MHz
• low insertion loss, 0.4 dB typ.
• good isolation, 25 dB typ.
• excellent amplitude unbalance, 0.1 dB typ.
• excellent phase unbalance, 0.2 deg. typ.
• rugged shielded case
Applications
• VHF/UHF
• communications systems
• instrumentation
Maximum Ratings
• Operating Temperature -55°C to 100°C
• Storage Temperature -55°C to 100°C
• Power Input (as a splitter) 1W max.
• Internal Dissipation 0.125W max.
The normal frequency range of these splitters is in the 70 to 140 MHz range.