Description
Mini-Circuits Two Port BNC Splitter
Mini-Circuits ZSC-2375 Two Port BNC Splitter is a 75 ohm splitter/combiner signed to work with 1W or less at a frequency range of 55 to 85 MHz.
In the satellite industry this type of splitter is most useful handling the IF cables at teleports or VSAT installations.
The connectors are BNC female.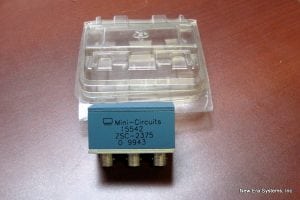 Looking for a different configuration of BNC splitter? Check out our full catalog of VSAT adapters on our website!