Description
The Norsat GLOBETrekker is the industry's leading back packable broadband satellite system. It features built-in intelligence to enable an operator to establish a reliable broadband link (up to 4Mbps) – anywhere in the world – especially in remote, harsh and hostile conditions.
The complete 1m auto-acquisition satellite system is packed in two backpack cases plus one small suitcase size container.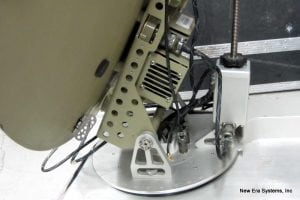 KU-Band LNB's typically come in low medium and high frequencies and three ranges are covered making this system completely flexible. A 15W KU-Band BUC is also part of the package.
The complete parts list of the Norsat GlobeTrekker:
• broadband capabilities up to 4 Mbps
• carbon fiber antenna consists of six segments
• motorized feed assembly
• Triple set of LNBs, 10.95-11.7, 11.7-12.2, 12.25-12.75 GHz
• 15W Ku Band SSPB 14.0-14.5 GHz
• motorized azimuth elevation superstructure
• built-in inclinometer
• compass GPS
• baseband unit which houses the following components:
• built in iDirect iConnex Infinity QPSK modem (Star, Mesh or SCPC)
• spectrum analyzer
• DVB-S receiver Ethernet switch
• DC to DC converter
• shock protected chassis and backpack casing
• system control software and GUI
• two backpacks and contents—22 kilograms (48 pounds) each
• third case containing touch screen and AC/DC power supply (less than 20 pounds)
List price $50K