Description
KU-BAND 4 PORT WIDE-BAND FEED
This unused KU-BAND FEED 4 PORT uses high "Q" bandpass filter components to Isolate the transmit and receive feeds. It is compatible with most standard, extended and super-extended KU-Band applications. The common flange fits most feed horns. Alternate common flange transitions are available at additional cost.
This feed can be used on any KU-Band satellite antennas from .75 meter to 32 meter. If you need help with output wave-guides we would gladly give you a quote.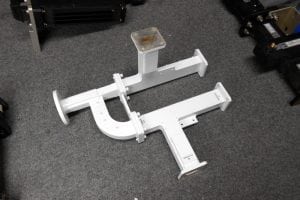 Easy bolt on installation, WR75 Output flanges Full KU-Band receive capability
Receive 10.75 TO 12.75 GHz
Transmit 13.75 TO 14.50 GHz
The common flange is designer for Vertex, Prodelin and GDSatcom antennas
If needed a transition flange can be built to fit other antennas at a slight additional cost.
For more antenna feeds or other VSAT equipment check out our full inventory here! or contact us for more information about our other VSAT products!