Description
Andrew 7.6m KU-Band Antenna was purchased in 2005 but never deployed and stored in a warehouse.
7.6M Earth Station Antenna is two port Linear Pol Ku-Band TX/RX non-motorized. This antenna  is a new Andrew antenna and kept at Bonded Warehouse in Asia since 2005. It can be easily shipped with minimum lead time because it already packed and in the original wooden crates.
This 7.6 M Ku band antenna it has included a high wind option which model is ES76PK-1.
The price as purchased from the factory in 2005 was $75,768, the asking price today is $55,000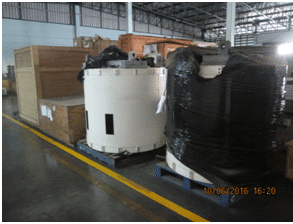 Shipping Information
Typical Net Weight 6500 lb (2948 kg)
Typical Shipping Weight 8200 lb (3720 kg)
Typical Shipping Volume 780 ft³ (22.1 m³)
Shipping Container Qty 1 per standard 40 ft land/sea container.