Description
The used RC3000 Antenna Controller that we own was designed to work with a Vertex 2.4M truck mounted antenna. The RC3000 allows even non-technical personnel to automatically locate and position a mobile antenna within minutes from power up.
The controller works as a satellite locator, but then once locked onto the satellite, the RC3000 has inclined orbit tracking capability.
This controller was designed by RCI for Vertex RSI to run a military MVO vehicle mount 2.4m antenna system.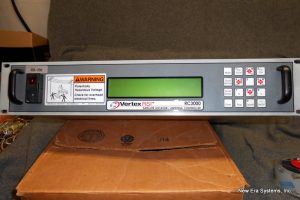 Model RC3KE-2.4 SM-LT
S/W RC3K-VE-GTN  V 1.44
S/N 1134
We have provided a partial manual for this controller. It addresses the use with the Vertex 2.4M antenna, and although these controllers may be compatible with other mobile antennas we encourage you to read the manual before making a purchase.