Description
Anacom 8W KU-band transceiver -The transceiver and LNC have been retested recently and support the frequency range of 14 to 14.5 GHz. We only have one of these transceivers remaining and although not cosmetically beautiful, it does work extremely well.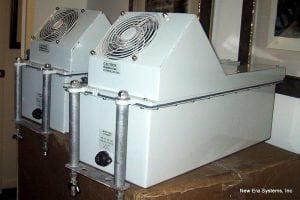 AnaCom's Ku-Band VSAT transceivers integrate all necessary functions into a small, highly integrated out-door package which provides excellent reliability in a wide range of environments and functions.
The up converter,down converter, power amplifier, monitor and control and power supply are included in a single enclosure and the only cabling required to the indoor equipment are the IF cables. The LNC connects to the transceiver with a single coaxial cable.