Description
Mitec 596446 40W C-Band BUC is a used BUC but fully tested prior to shipping with a 60 day guarantee. The complete Model number is MTX-596446-60-ES-20.
The BUC is powered by 48VDC over the IFL cable reducing the need to supply AC power at the pad but be careful to ensure that the modems 48V power supply can deliver up to 270 Watts.
We can provide a separate 48VDC Power Supply with a BiasT that was designed to operate this BUC. If purchased with the BUC the additional cost is $1250 for the power supply – Matching BUC Power Supply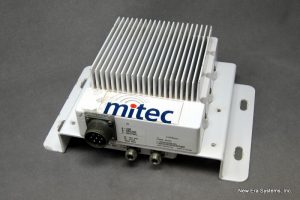 The frequency range of the Mitec 596446 40W C-Band BUC is 5.850 to 6.425 GHz and the IF range 950 to 1525 MHz. This BUC has the waveguide to Type N connector that can be quickly removed for full waveguide to feed.
Stealing some information from the data sheet (that is available in the downloads tab)
The new generation of Mitec VSAT medium power Block Up-Converters comes with a super compact form factor and is lightweight, which allows it to be mounted directly on an antenna feed.
This type of installation does not incur any TX loss, enabling the end user to minimize the size and cost of a VSAT station using the smallest antenna and the lowest TX power possible.