Description
CPI VZC6964 400 Watt C-Band Used TWTA is a C-Band rack mount satellite amplifier. In addition to having excellent test results it has only 10,000 hours on the clock. The frequency range of this amplifier is 5850 to 6650 MHz.
This c-band used TWTA is in excellent condition with output power at the flange of 375 watts or a little more and with good body current. Beam on hours about 10,000 and filament hours on about 10020.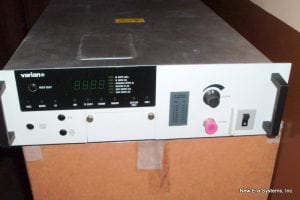 Compact
CPI VZC-6964 400 Watt C-Band TWTA provides 400 watts of power in a 3 rack unit package, digital ready, for wideband, single- and multi-carrier satellite service over any one of several frequency ranges in C-band. Ideal for transportable and fixed earth station applications where space and prime power are at a premium.
Weight and Dimensions
The actual size of the amplifier is 29 * 19.5 * 5.5 inches with a weight of 70lbs
For shipping purposes add 3 inches to each dimension.
Efficient
Employs a high efficiency dual-depressed collector helix traveling wave tube backed by many years of field-proven experience in airborne and military applications.