Description
Anacom 50W C-Band Transceiver, complete with software and cables.
Never used, still in its original box, complete with all cables and Anacom's Supervisor software on CD. It has been fully tested. TX 5.850 to 6.425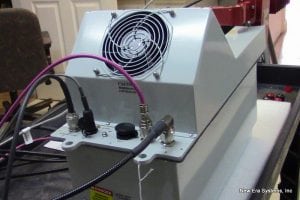 Anacom's series of Extended C-band VSAT transceivers are available in transmitter output levels up to 100 Watts, in single or redundant configurations. Output:Waveguide. These transceivers are ruggedly built for continuous outdoor duty in all types of environments.
They are especially suitable for SCPC, MCPC, and DAMA applications. The up converter,down converter,power amplifier,monitor and control and power supply are included in a single enclosure and the only cabling required to the indoor equipment are IF cables.The LNC connects to the transceiver with a single coaxial cable.
An ovenized, high stability crystal oscillator is used to lock the TX and RX synthesizers. The onboard microprocessor is used to give additional temperature and aging compensation.