Description
N9344C Handheld Spectrum Analyzer (HSA), 20 GHz this is one of the most amazing products that we have brought into our shop.
Normally a 20 GHz Spectrum analyzer weighs 30 lbs and is seriously large in stature. In contrast This N9344C Handheld Spectrum Analyzer has a simple carry strap and weighs less than ten pounds but the screen is the same size as my rack mount analyzer the we use to test equipment.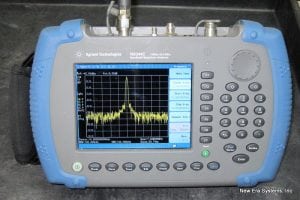 In addition to power supplies for vehicle and AC input, the N9344C is equipped with the tracking generator a $2700 option.
There is a wealth of information from Agilent/Keysight even video's describing how to use it. Look at the following URL: Keysight Website