Description
Agilent E4418B is a used digital Power Meter in the EPM series. It is a complete power meter with the power head and it has been tested and is guaranteed to be in excellent working condition.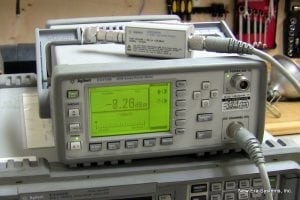 The Agilent E4418B allows front panel adjustments for the RF frequency being tested and a calibration factor to compensate for the attenuation of the cross-guide coupler. The power may be shown in Watts or in dBm.
The manufacturers specifications describe the instrument's warranted performance and apply after a 30-minute warm-up. These specifications are valid over its operating/environmental range unless otherwise stated and after performing a zero and calibration procedure.