Description
iDirect Evolution X1 Modem-Router in stock, they are difficult to find on the used market and we only have a limited number of them for sale.
They are tested, unlocked and in perfect working condition. We supply the power cube and cable with the modem.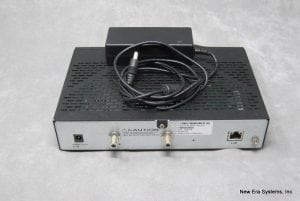 In the iDirect Spec Sheet they introduce the router as:
Cost-effective remote bundle ideal for large-scale networks for SCADA, Point of Sale, ATM, Femtocells, and small Enterprise applications. The remote features DVB-S2/ACM and Adaptive TDMA, routing, VLAN functionality, QoS and optional AES encryption.