Description
Comtech EFData SDM-9000 Satellite Modem is a very sophisticated SCPC satellite modem and although several years old, the first one that we put on the test bench worked perfectly.
For anybody needing a full featured SCPC modem at a bargain price. This modem is the answer. Coupled with the fact that we test and guarantee the equipment that we sell.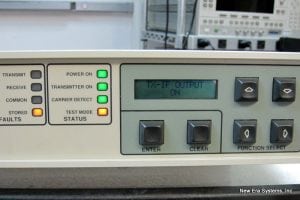 This particular 52 Mbits/s modem appears to be fully loaded with 16QAM and Reed Solomon, all enabled.
What we like most about Comtech EFData products is that they have adopted a very similar front panel menu system over the years. If you are familiar with the current series of VSAT modems then configuring the Comtech EFData SDM-9000 Satellite Modem is a simple process.
Standard SCPC modems most often use the frequency range of 70MHz ± 18 MHz, Whereas the SDM-9000 has an operating frequency range of 50 to 180 MHz in 2.5 kHz steps.