Description
Norsat 3120 C-Band LNB is a favorite with earth station operators and uplink facilities because of the exceptional quality and performance of these PLL LNBs.
We originally purchased twenty of these LNB's a few months ago, some were used and others were brand new, but steady sales to our client base has brought us down to only two, and they are brand new.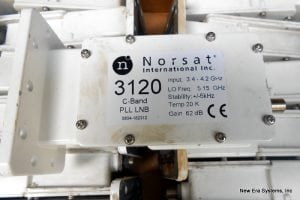 The most important characteristics of this Norsat 3120 C-Band LNB:
Waveguide CPR229G
Input Frequency 3/40 to 4.20 GHz
LO Frequency 5.15 GHz
LO Stability 1.0 ppm at ±5kHz
See the complete specifications in the Downloads section.