Description
Norsat 3120 C-Band LNB is a favorite with earth station operators and uplink facilities because of the exceptional quality and performance of these PLL LNBs.
We originally purchased twenty of these LNB's a few months ago, some were used and others were brand new, but steady sales to our client base has brought us to a remaining few used and a few others brand new.
The price quoted here is for the used LNB's, email or call if you require one of the new LNB's that we sell for $250, but there is a limited number of them.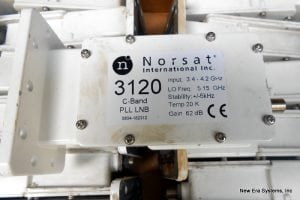 The most important characteristics of this Norsat 3120 C-Band LNB:
Waveguide CPR229G
Input Frequency 3/40 to 4.20 GHz
LO Frequency 5.15 GHz
LO Stability 1.0 ppm at ±5kHz
See the complete specifications in the Downloads section.