Description
Global Professional 4 Way Passive L-Band Splitter is manufactured by a company in the UK. This combination splitter – combiner has a frequency range of 950 Mhz to 2150 Mhz.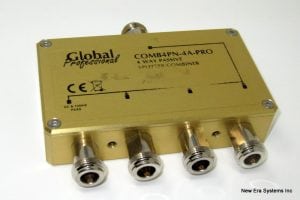 The Global Professional VSAT PASSIVE 4 way Combiner/Splitter has been designed to combine or split the L band from a typical VSAT system. The unit can be used in either configuration.
Port One on the combiner/Splitter also allows a 10MHz Reference signal and DC to pass through. The remaining three ports are blocked to both DC and 10MHz.