Description
T-Gex 1.2m FlyAway Portable VSAT Systems
We first found the T-Gex 1.2m FlyAway Portable VSAT Systems antenna at one of the satellite shows, and we were impressed with the high quality of workmanship. These antennas are built to take the harsh treatment by remote broadcaster crews, constantly unpacking, transmitting and re-packing.The Tx / Rx 1.2m – Snake antenna, has been designed to be a lightweight and portable, fitting the IATA standard, can be carried on any commercial aircraft, even small models. This antenna operates in Ku or X-band, has ultra light and strong reflector, produced in carbon fiber and aluminum tripod, rugged construction and easy assembly. It can be assembled in less than eight minutes even by an inexperienced operator and the appointment is very simple, with azimuth adjustment by conical locking and elevation and a crank screw.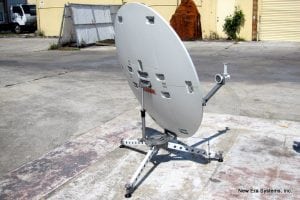 We only have brand new antennas from this manufacturer. The antenna is packed in two cases to allow for easy transportation.
The two travel cases are sturdy, but light enough for two people to handle with ease.