Description
GDSatcom 1.2m FlyAway Antenna
GDSatcom 1.2m FlyAway Antenna manufactured by General Dynamics GDSatcom Division, this is model 1139QD. GDSatcom call this type of product Quick Deploy and that's partially true. After a few practice sessions one person can assemble it in less than 30 minutes.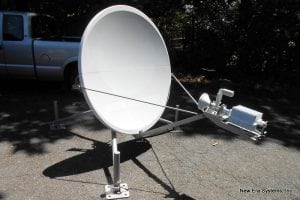 The antenna and the amplifier, LNB and cables are packed in cases to allow for safe transportation by road, plane or helicopter.
The new list price on this item is over $14,000.
In the photograph showing the GDSatcom 1.2m Antenna full package, a Honda generator is shown, but no longer available because the generator was used on another project.