Description
We have a quantity of three brand new AVL Model 1878 C-Band Mobile VSAT Antenna systems.
The original purchase was for five antennas, and as you can see in the gallery photographs, two were installed, one on a truck and the other on a Sprinter, but the other three were consigned to a warehouse where they have sat for some time.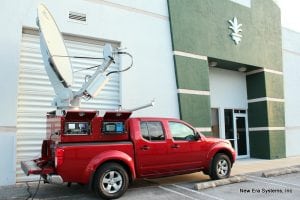 We didn't think that photographs of the antennas in crates would be very compelling and so we asked the owner for photographs of the two that he is using.
When he purchased the AVL Model 1878 C-Band Mobile VSAT Antenna they were bought without the main satellite acquisition controller, and we can offer them two ways – either as-is brand new but with no controller or as a completed package with a brand new AVL controller installed by a factory authorized company.
A final reminder, we are only selling the antenna, with controller, or without controller, the truck and RF gear are not part of the sale.