Description
ETI ADH-2A COM Dehydrator is a rack mount dehydrator, in our industry it is used to keep the waveguide-run free of moisture. This is a used dehydrator removed from a teleport when it was shut down.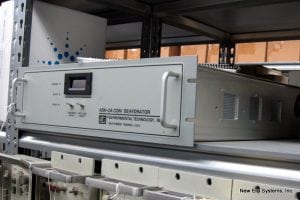 The manufacturer describes it better than we can:
The ADH–2A COM Automatic Dehydrator sup plies low pressure -40°F (-40°C) maximum dew point air to keep waveguide and coax dry. The standard pressure is 0.5 psig  (34.5 mbar) with 3 psig (207 mbar) and 6 psig (414 mbar) options. Standard features include automatic regeneration, alarm and low pressure relays and an RS-422/RS-485 communications interface thus making unattended operation practical.
Better still, check the downloads section for the complete datasheet and the manual.