Description
Andrew 5.6M C-Band Earth Station Antenna is a used four port fully refurbished Circular Polarized antenna.
Andrew 5.6M C-Band 2 available TX/RX
4 Port Circular Polarity
3 Axis Motorization
Andrew ACU300
Andrew de-humidifier
Foundation hardware kit
Foundation drawings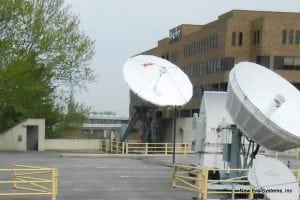 Like all ASC Signal earth station antennas, the 5.6-Meter Earth Station Antenna provides
high gain and exceptional pattern characteristics. The electrical performance and exceptional
versatility provides the ability to configure the antenna with your choice of linearlyor
circularly-polarized 2-port or 4-port combining network. That versatility is provided at
the time of initial purchase, as well as in the future, as your satellite communication
requirements evolve.
The aluminum reflector is precision formed for accuracy and strength requiring minimal
assembly. The reflector assembly is 18.3-feet (5.6-meters) in diameter and segmented
in a sixteen piece configuration to reduce shipping volume and facilitate transport to
remote sites. Reflector panels are chromate converted and painted with a highly reflective
white paint.
The versatile tripod mount can be purchased with either manual or motorizable capabilities.
The tripod mount features 180 degree azimuth coverage in three continuous 120
degree overlapping ranges and executes 90 degree continuous elevation adjustment.
This large adjustment range provides non-critical foundation orientation and the ability to
view geostationary satellites from horizon-to-horizon, from any location worldwide.