Description
Xicom XTS-200C C-Band BUC is a 200 watt SSPA, or more accurately it should be classified as an SSPB because the L-Band front end is part of the amplifier.
We have several of these BUCs and can offer them as a fully redundant set or as a single unit. The amplifiers are designed by Xicom in rugged outdoor enclosures, meaning that they can be mounted directly on the antenna preventing the need for long expensive waveguide runs.
We can provide full test reports on request. A sample test report for one of the amplifiers is shown in the downloads section.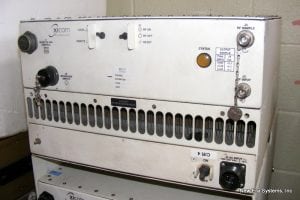 The XTS-200C high power solid state power amplifier are compact, fully integrated antenna-mount units designed for low cost operation and longevity.
Intended for outdoor operation, the XTS-200C eliminate the need for a separate amplifier shelter. In addition, the distance between the amplifier and the antenna feed horn can be shorter, thus eliminating long waveguide runs and associated RF losses.
The price quoted on this listing is for a single SSPA, for a redundant package please contact sales@newerasystems.net