Description
EFData 20W C-band Transceiver with frequency range of 5845 ot 6425 Mhz. They are typical transceivers with 70 MHz input and 70 MHz output.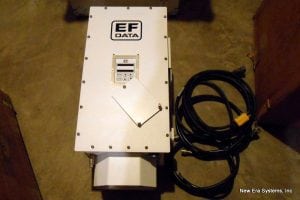 As part of our testing we decided to take on of this EFData 20W C-band Transceiver apart to look within. During this inspect we found that it would be a simple conversion from Transceiver to C-Band BUC. 
Here is a copy of an email from Ken Smith our top engineer:
"You have nine EFData units they are not all tested yet, but I discovered that they can be used as BUC's also. They are all C-Band units and are 70 mhz input and output and the frequency as transceivers is 5845 to 6425.
If I change these to L-band input instead of 70 Mhz input, the units will only go from 5925 to 6425 which is the normal C-Band range. The reason for this is the bandwidth of the iF that goes into the last oscillator before it becomes a C-Band signal.
What I do is put the RF frequency on the up Part to 6105.0 Mhz. This provides a oscillator frequency of 4975 Mhz which mixes with the L-Band frequency to provide the output of 5925 to 6425 Mhz."
So there you have our secret, and if you have your own EFData transceiver you can do the same – or you can buy one from us for a modest fee,
This may be the heaviest 20 Watt C-Band BUC, but it could also be the cheapest.